Maple Story Hand drawings
This is my maple story character hand draings that I did recently. All the people in my current guild Hellsfury I will try to draw their character and place on this page :)
<UPDATE#1>Due to more drawings requjested i will put the characters Not being drawn often near the bottom and the ones that request more often near the top...and dont think this means Jaonithin will drop down the ranks...he will always be the one on the top....
GUILDS IVE BEEN IN
Hellsfury: Member for 3 months (Joined Lv40-59)
PrtInMyPants: Jr Officer for 1 Month (Joined LV60-70)
Zengetsu: : Jr Officer Around 14 days (Joined since LV 71)
LEFT GUILD TO PREVENT MY URGES TO PLAY MAPLE STORY WHEN I MUST STUDY FOR THE FINALS I WILL RETURN AND IF ZENGETSU WANTS ME BACK...I WILL ACCEPT...
<Zengetesu> (Joined lv73-95) Yep same one Jr officer for 3 months
<Dark Legecy> (Joined lv95-122)
<legitedUnited> (Joined lv123-)
<NEW UPDATE SECTION>
12/21/2006 Started My drawing Added Myself, Yellowmagi, Ginneee, and Hellsfury
12/25/2006 Yellow speed through his lving added his lv60 drawing, JmapleKevin, Tanaka02,
12/26/2006 Added DmanxXx
1/2/2007 Added My buddy Tayobayo
1/5/2007 Added Xcambopunkz He's the one who invited me to guild
2/1/2007 Did my Digital drawing of Jaonithin
2/27/2007 Added Sauron076 By request
3/21/2007 Added Yellowmagi lv70 drawing
3/22/2007 Added my lv70 drawing of Jaonithin
3/29/2007 Added Ginneee LV62 drawing
4/9/2007 Added ForgonCIeric and Xhark Drawing
4/11/2007 Added Nomadx1125's first drawing
4/13/2007 No more pictures will be done last one wil be ForgonCieric and Nomadx1125 cause they requested it maybe I'll do one final drawing with all the guild members on :D...ya but also I want to do more I'll Do an animaiton of What I liked in Maple story ludi pq. It'll be my final tribute to this game. The final drawing I will do once college is over giving all the guild members a lot of time to level up. and the animation will be complted after that...I will make sure to work my hardest on it over summer vacation.
4/26/2007 Found out i passed and the school gave me honors. Meaning i dont have to spend 80 hours a week on school freeing up a lot of free time i will use to mapling although i wont play long hours like i did in the past. Will start drawing again...will do digital image upon request...look at jaonithin lv50 to see how it will look like.)
5/9/2007 will update my maple (im probably behind in the updates) and sneak on as Jaonithin...after giving back his lv70 helmet with Auroian..if anybody wants to greet me when i return do so lol the first thing Jaonithin will do is look for a guild...Zengetsu gets first dips if any of them are on...
5/11/2007 Will focus on animaiton Ludi pq a lot more meaning a lot less maple playing time no biggie right? I'll get up to stage 1 and stop everything before then is dont but no background or sound...also i gotta do the atack animtions for all the attacks including haste, fire arrow, mediation, ice beam, thunder, double shot, lucky 7, hyper body, bless, and heal...O_O
5/17/2007 Added Ginneee lv 73 and Xhark62 lv 60
6/21/2007 Added oORamzaOo lv73
9/3/2007 Added Xihark lv72 and ForgonCIeric lv 72
9/9/2007 Added Jaonithin lv97 and Lonerose lv66
9/9/2007 Due to more drawings requjested i will put the characters Not being drawn often near the bottom and the ones that request more often near the top...and dont think this means Jaonithin will drop down the ranks...he will always be the one on the top....
NOTICE TO RETURNING VIEWERS: ALWAYS HIT "F5" or the refresh button to see any new drawings that might be uploaded to site. Otherwise there's a good chance that the new images wont upload this espeically happens if you bookmark this page to your favorite sites.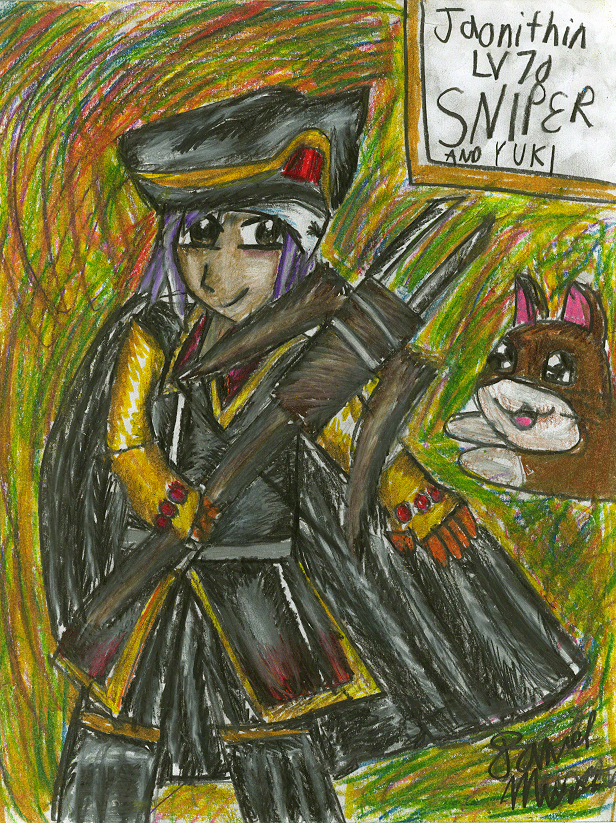 Finally a sniper :) LV70!!!!
this was the best time of my mapling career I'm now a sniper :D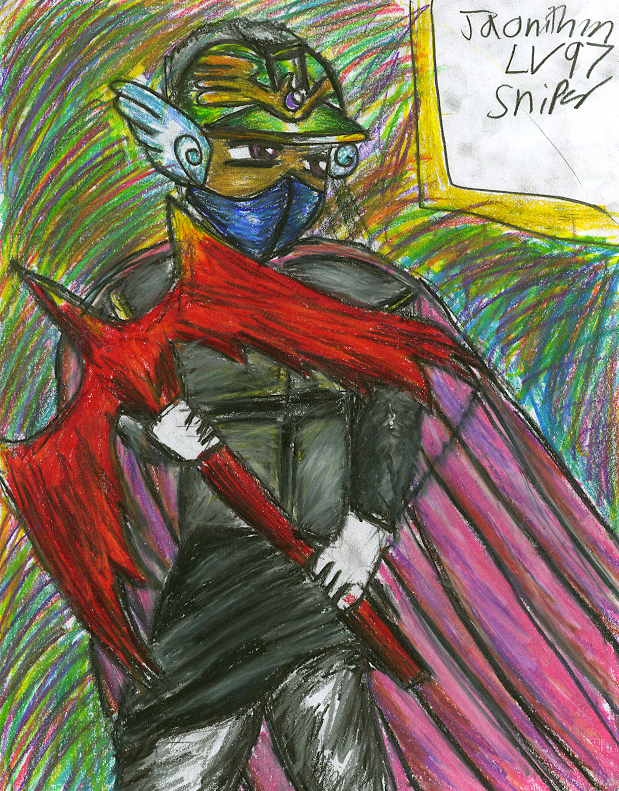 Jaonithin lv97 Sniper
After going afro for like an entire 3 months I decided to change to the "ninja look" this is the best i think Jaonithin has ever looked...in game and hand drawn...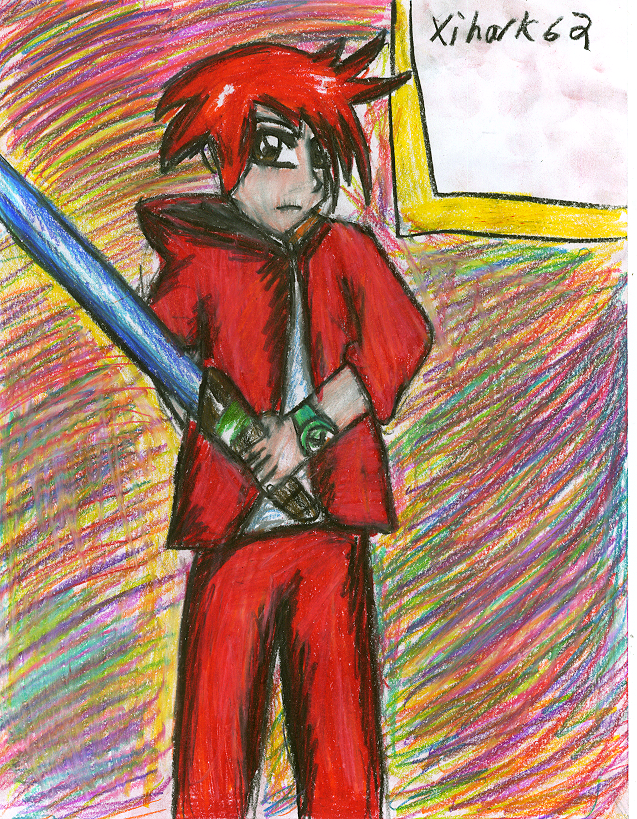 Xihark Lv72 CrusaderLeader of my curent guild...updated to the way he wanted it...looks older cause he's at a higher level either that or I'm becoming a better artist :D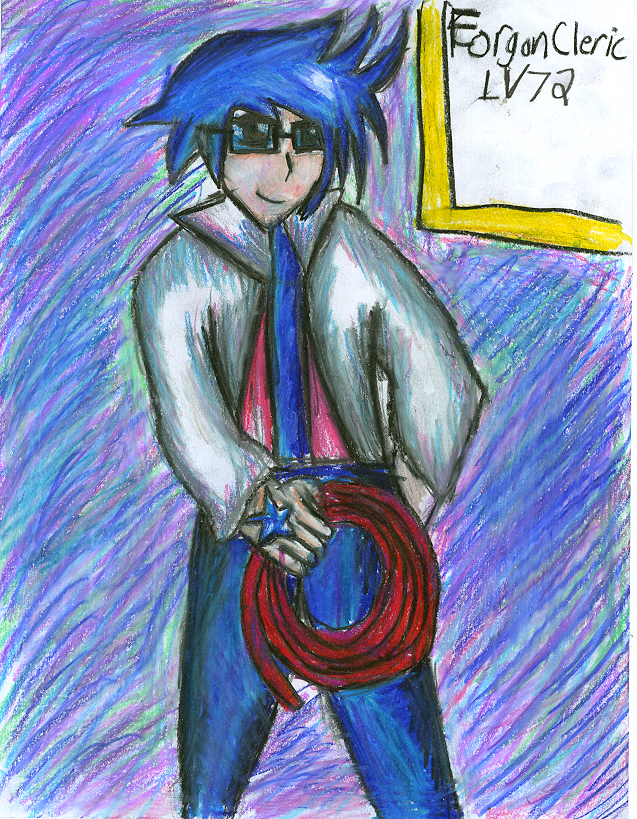 ForgonCIeric lv72 Priest
2nd drawing of ForgonCIeric....looks more mature and older cause he's at a higher level..either that or I'm becoming a better articst :D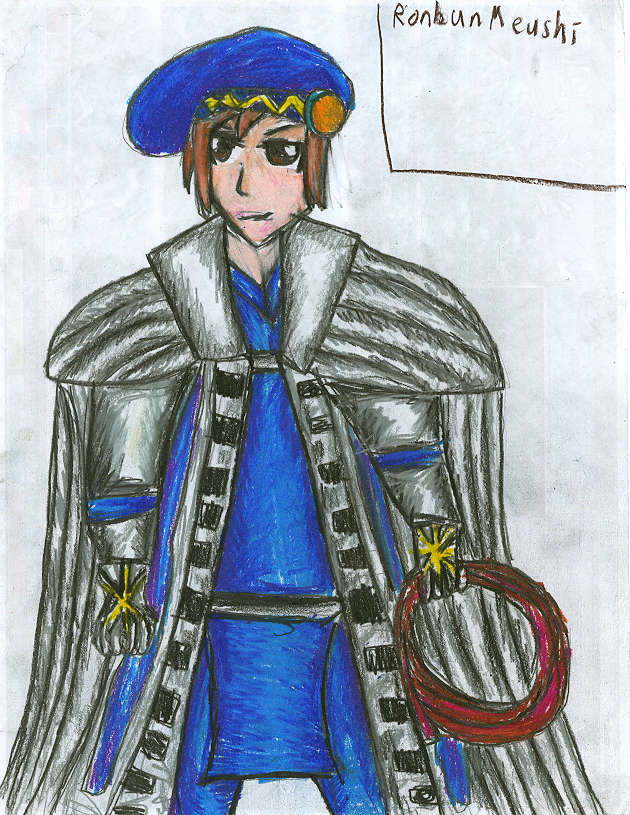 Ronbunmeshi Lv73 sniper
after a long while finally complted from now on no more backgrounds...i found that everybody didnt seem to like them so i agreed....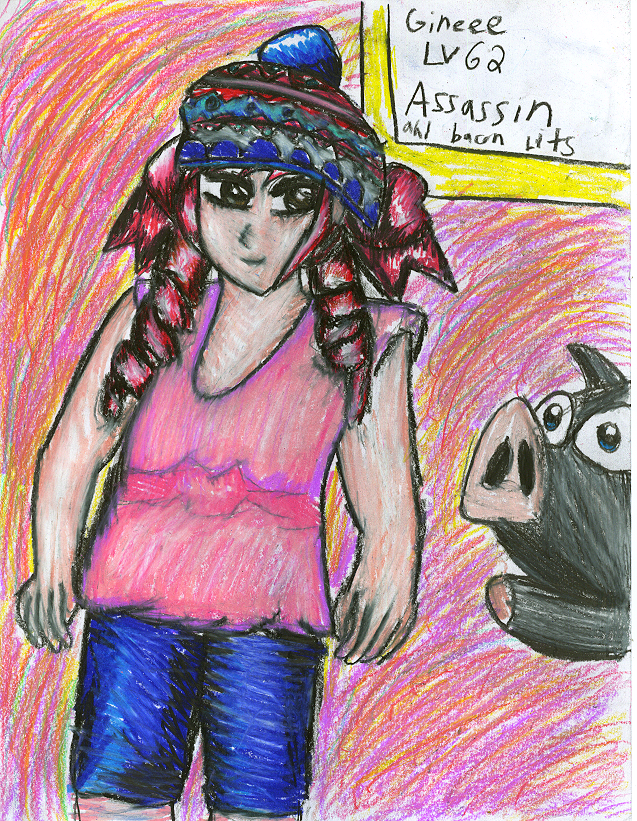 Finally redrew Ginneee LV62 very nice.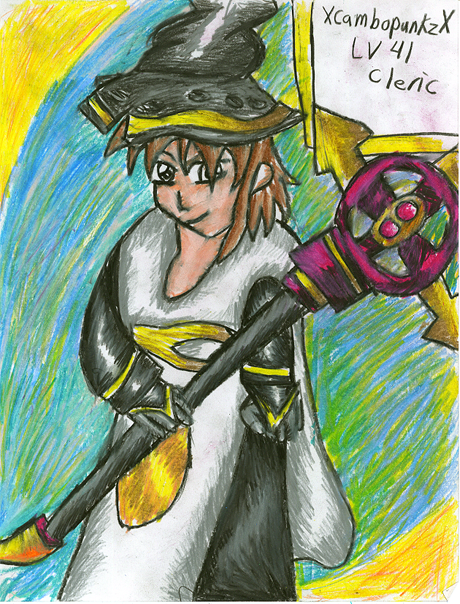 XcambopunkzX Lv41 Cleric
Wow im beginning to notice a trend all the characters hairs looks the same why? cause they probably didnt get cash shop hairs....they got the starter hair...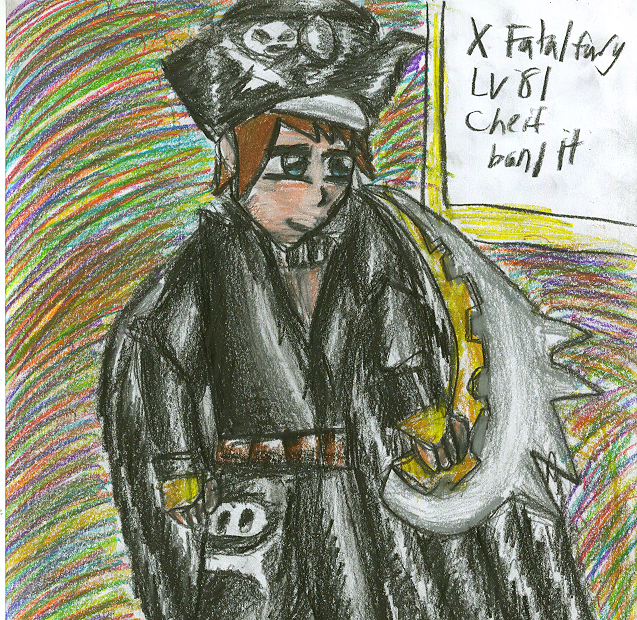 XFatalfury lv81 Cheif Bandit
<From Buddy list drew with his permission>
Ran out of black pencil so you notice that i used an ordinary school pencil that you probably used for your prevoius math test for the black areas...not as clear but still decent...
(update used a black pencil i bought for 7 dollars...dont ask..its a professional art pencil not the school pencil...looks much better...updated the pic on my website...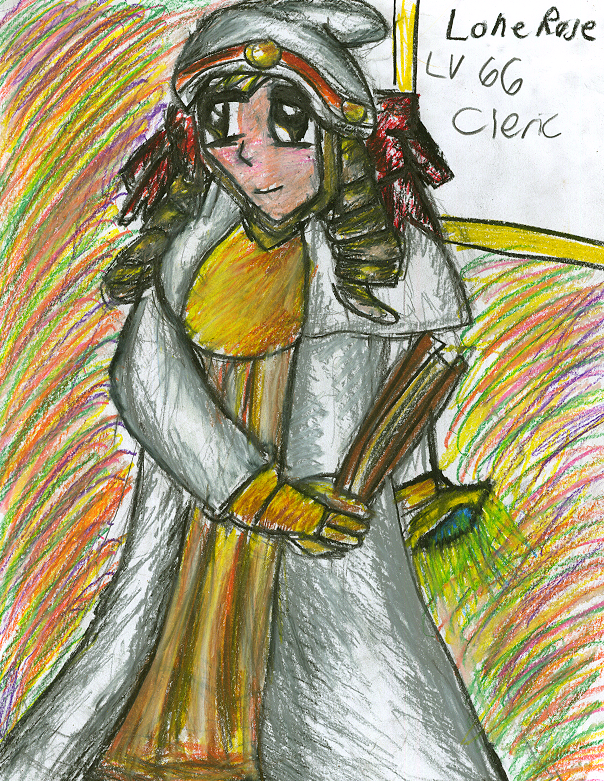 Lonerose lv 66 Cleric
First Dark Legcay member drawn...decent overall...i think but i still need to practice more on the female characters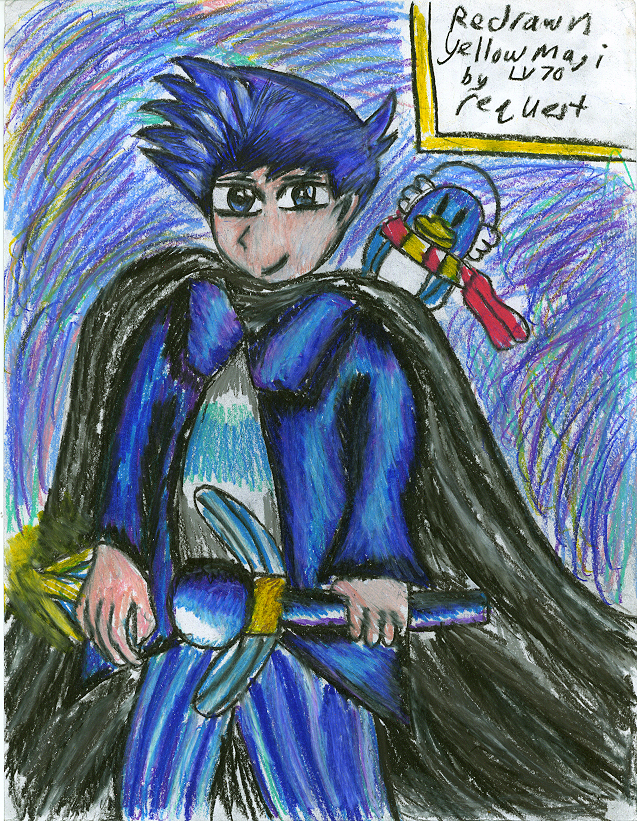 Redrew at the request of Yellowmagi...I think he's doing
the blue colors now though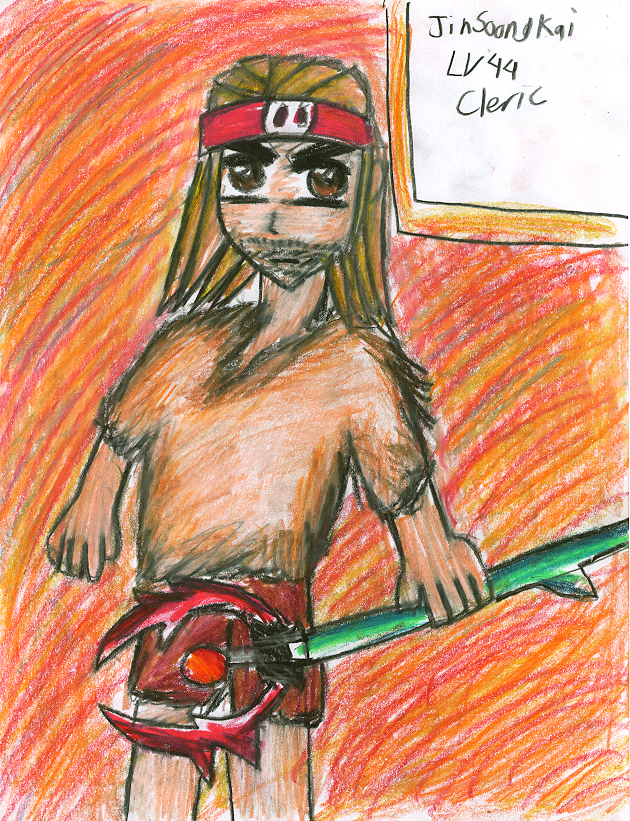 no image :(
Jinsoongkai lv 44 Cleric
This is Yellowmagis noob my first drawing of him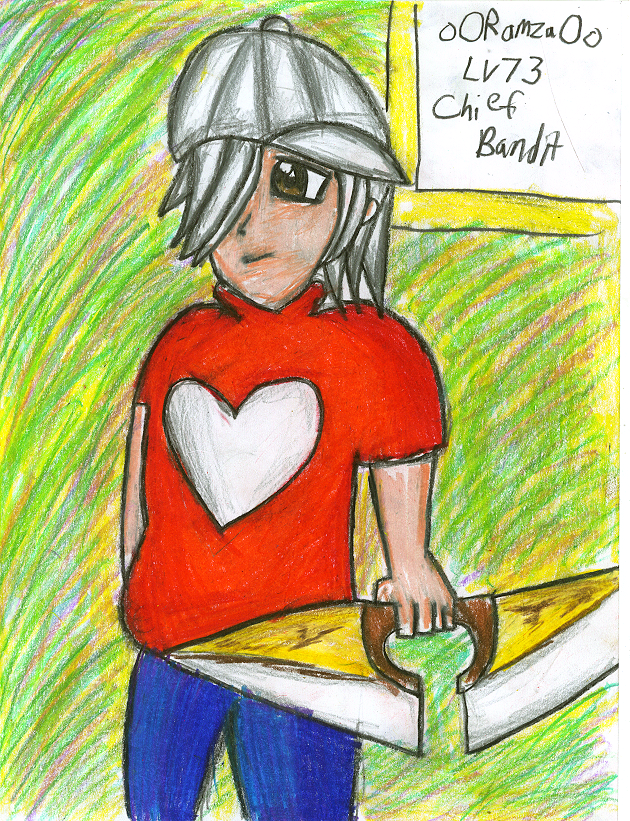 no image :(
oORamzaOo LV73 Cheif bandit
Leader of guild Zengetsu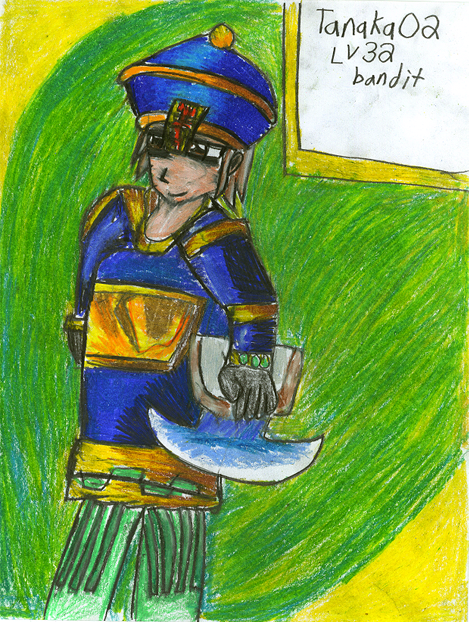 Tanaka02 Lv 32 Bandit
O_O wow what a nice cash item selection this was very hard to draw...you dont know how many times i had to redo this to get this one right.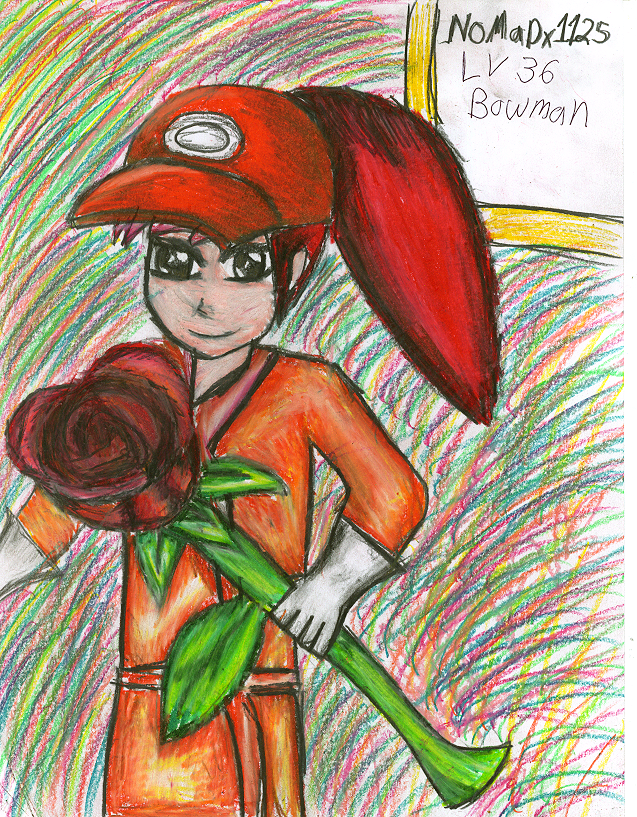 Nomadx1125 Lv 36 (I'm guessing hunter)
Oh fun fun!!! Another sauna user excpet now its red instead of blue...no problem at all...Only problem was the red rose. For such a common drop...its hard as heck to draw...at least it looks correct.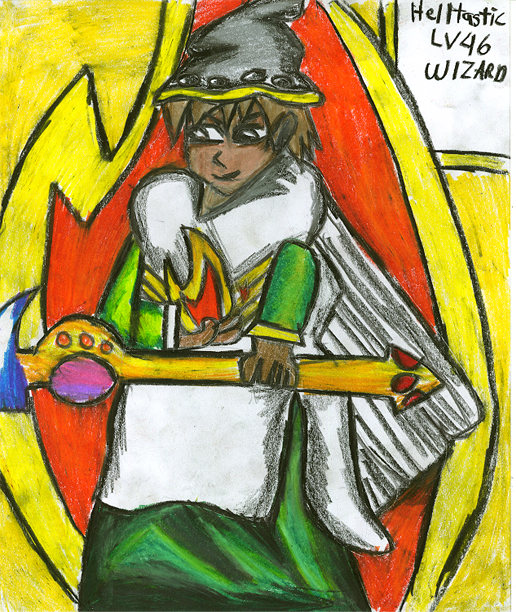 Helltastic lv 46 Wizard Fire Wizard
(Leader of guild Hellsfury)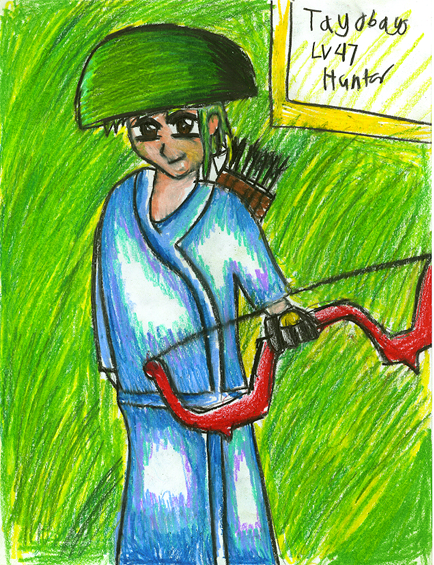 Tayobayo lv47 Hunter
Wearing a sauna